Wounded veterans explore 1906 shipwreck
Wounded veterans have been carrying out a series of dives exploring the wreck of a warship off the north Devon coast.
HMS Montagu operated aground on rocks off Lundy in 1906, and divers have been trying to find out what remains and what needs to be done to protect it.
There are six veterans taking part with both physical and psychological issues.
One of the divers, who was medically discharged from the Royal Air Force in 1993, said his injuries were easier to cope with when diving.
"For me diving is the only place I am out of pain following my spinal trauma in Gulf War One, " said former armourer Andrew Phillips.
'Troubles forgotten'
"As soon as I'm under the water, I'm pain free and this is great physio. I love diving and here, with the seals and wildlife, it's difficult to beat."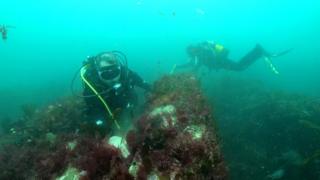 Wounded veterans have taken part in a number of archaeological excavations previously as part of Operation Nightingale.
They include work on Barrow Clump, a Bronze Age burial mound and Anglo-Saxon cemetery in the Salisbury Plain educate area.
The programme is controlled by the Ministry of Defence with funding provided by Historic England, Help for Heroes and Wessex Archaeology.
Jock Easton, Head of Recovery West for Help for Heroes, says diving allows the veterans to forget their difficulties for a while.
He told: "Help for Heroes has employed sport as a tool for recovery for many years and such projects, where athletic is be included with archaeology, is a great boost to their continuing journey."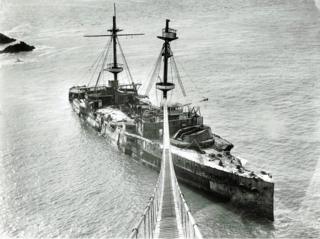 The wreck they are diving on, HMS Montagu, was launched in March 1901.
On 30 May 1906, the battleship grounded on stones around the Isle of Lundy in thick cloud due to a navigational fault while undertaking secret radio communication trials.
The ship could not be saved and had to be broken up and salvaged where it lay.
Read more: http :// www.bbc.co.uk/ news/ uk-england-devon-4 4741292