Woman cites Trump while calling man 'rapist,' 'illegal' in viral rant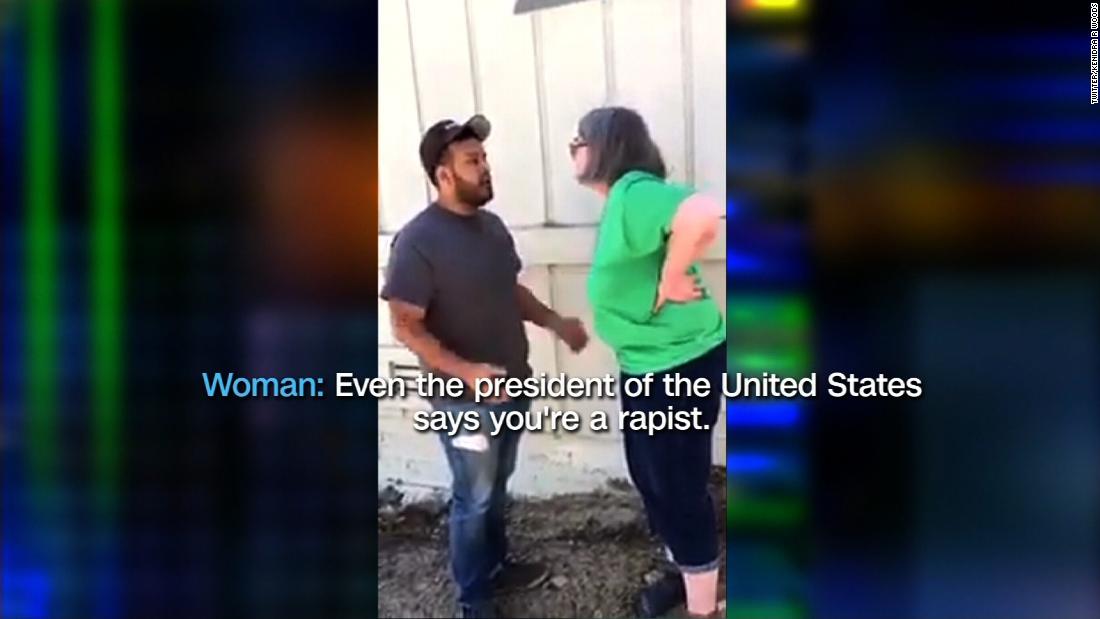 ( CNN ) A Latino man and his mother who were doing yard work in California were verbally assaulted by a woman who called them "illegals" and "rapists, " and a video of the encounter has moved viral.
"I told 'Hey, what's your trouble? '" Guzman, who said he was born and raised in the Lake Arrowhead area of Southern California, told Lemon. "And she mentions, 'You're all illegal. Run back to Mexico.' And I tell, 'I am a United States citizen. What are you talking about? '"
Video, shot dead by Guzman's mother, of the encounter was posted on
Twitter
Monday and had garnered more than 2 million views by Monday night ..
The footage shows the woman pointing her finger at Guzman's face and castigating the California native .
"Why do you dislike us? " Guzman asked during the encounter.
"Because you're Mexicans, " the woman replied.
"We're honest people right here, " Guzman said.
"Yeah, rapists, " the woman said.
The woman also said, "even the President of the United States says you're a rapist."
Guzman told CNN he has never seen the woman before their showdown. CNN was unable to instantly determine the woman's identity to try to reach her for comment.
"I'm not that person that, you know, that the President of the United States tells I am, " Guzman said he told the woman. "People look at me and they watch what he said on TV and that's absolutely no truth to the rumors. That's absolutely no truth to the rumors for any of us."
During a June 2015 speech announcing his candidacy, Trump referred to some Mexican immigrants as "rapists."
"When Mexico mails its people, they're not mailing the most appropriate, " Trump said in 2015. "They're mailing people that got a lot of troubles, and they're bringing those problems with us. They're bringing drugs. They're bringing misdemeanour. They're rapists. And some, I assume, are good people."
Guzman added that racism is "alive and well today" and that people are more embolden to attack Mexican immigrants.
"I feel like people are a little more entitled to say, 'Hey … go back to Mexico, '" he mentioned. "And I'm like, why? I live here. I have a mortgage here."
Guzman went on to say how proud he was of his exchange with the unidentified woman.
"When I stood up for my mother, I stood up for everyone that is scared to speak up, " he mentioned. "I stood up for the little people. For the person or persons that don't have a voice in this country. "
Read more: https :// www.cnn.com/ 2018/06/ 26/ us/ woman-berates-man-viral-rant-don-lemon-cnntv/ index.html