Why the CO2 shortage really matters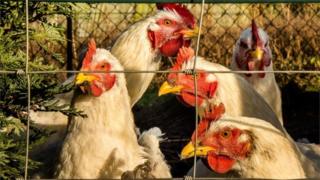 A shortage of CO2 gas is starting to bite. From pig processors to beer firms, the lack of carbon dioxide is hitting production. Even soft drinks giant Coca-Cola says its UK bottling plant was interrupted by the shortage.
Trade journal Gas World, which first uncovered there was a problem last week, said it was the "worst supply situation to reached the European carbon dioxide business in decades".

What is CO2 used for?
CO2 is widely used in the meat processing and drinkings industries. It throws the fizz into beer, cider and soft drinks, and is used in meat packaging to extend the shelf life of salads, fresh meat and poultry.
The gas is also seen as the most humane style to stun animals and chickens before slaughter.
Carbon dioxide is also needed to create dry ice, another product extensively used in the meat industry to help keeps things chilled in transit.
The gas is also widely used outside the meat and drinkings sectors. CO2 is needed for certain medical procedures, and is used in the manufacture of semiconductor devices and by oil companies to improve the extraction of crude.
Why is there a shortage?
A lot of CO2 is, is simple, created as a by-product from ammonia production that is used in the fertiliser industry. Other sources are bio-ethanol plants.
However, a number of big mainland European fertiliser plants closed down for routine upkeep. And in the UK, only two of five working plants that furnish CO2 are operating at the moment.
Peak consumption for fertiliser is the winter, so chemical companies have traditionally scaled back production as summertime approaches. Likewise, the present low price of ammonia entails producers have little incentive to restart production quickly.
It's a example of bad timing that several flowers gale down runnings together, just as demand for food and drink was being ramped up by the good climate and football's World Cup.
Pig welfare at risk as CO2 shortage bites Are we in for a beer deficit the summer months ? CO2 dearth: Meat industry calls for government act