Trump set to name supreme court pick in biggest decision of his presidency
President's announcement could set the direction of the court for decades and light the fuse of an acrimonious political battle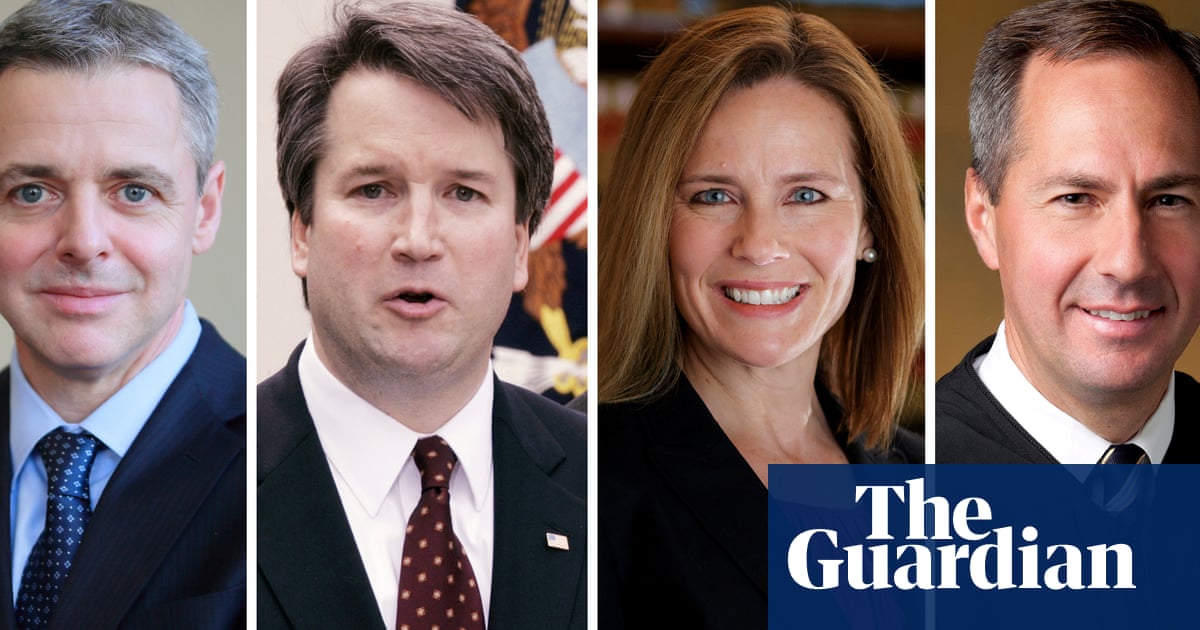 Donald Trump is set to make one of the most consequential decisions of his presidency on Monday when he names a new justice to sit on the US supreme court.
The president's announcement, which with his usual taste for suspense is to be televised live at 9pm from the east room of the White House, could set the direction of the court for decades and light the fuse of an acrimonious political battle.
The nominees record will come under particular scrutiny for clues as to how he or she might vote in any future review of Roe v Wade, the landmark 1973 decision that guaranteed womens right to abortion.
Trump's pick comes less than two weeks after Justice Anthony Kennedy, often the swing vote in the courts rulings, announced his retirement, and 18 months after the president won plaudits from conservatives for appointing Neil Gorsuch to the court. This followed a fiercely criticized but ultimately successful strategy by Senate Republicans to block Barack Obamas nominee, Merrick Garland, in 2016.
Trump has moved quickly to prevent Democrats attempting a similar maneuver before November's midterm elections. Last week the president conducted interviews on Monday and Tuesday, whittling down a list of 25 figures vetted by conservative groups. On Thursday, traveling on Air Force One, he told reporters: I think I have it down to four people. And I think of the four people I have it down to three or two.
And on Friday, in his weekly address, Trump made clear he was looking for a justice who adopts an originalist interpretation of the constitution. Judges are not supposed to re-write the law, re-invent the constitution, or substitute their own opinions for the will of the people expressed through their laws, he said.
Notably, Mike Pence, the vice-president who frequently describes himself as a Christian, a conservative and a Republican, in that order, is understood to have met the leading contenders.
The shortlist reportedly consists of federal appeals court judges Amy Coney Barrett, Thomas Hardiman, Brett Kavanaugh and Raymond Kethledge. The White House has been preparing information packages on all four, the Associated Press reported.
Any one of them could tip the balance of the nine-person court toward conservatives and revisit landmark rulings on abortion access, racial discrimination, gay rights and other issues.
Kirsten Gillibrand, a Democratic Senator for New York, tweeted: You can bet that anyone on @realDonaldTrumps list of potential SCOTUS nominees would overturn Roe v Wade. Our hard-fought rights could evaporate in a moment. Thats a massive step backward for womens equality that I will not stand for. Not in 2018. Not ever.
But others suggest that predictions of doom for Roe v Wade are exaggerated. Curt Levey, president of the rightwing advocacy group the Committee for Justice, said: I don't see [chief justice] John Roberts overturning it. I think conservative justices are also conservative in the small c sense. They just dont see the courts role as being radical change.
Will they slowly eat away at Roe so at future date it might be overturned? Possibly. But right now I just don't see it.
One day after the high-stakes announcement, Trump will head to Europe for a Nato summit, a visit to Britain and a meeting with Vladimir Putin, sure to leave a bitter political brawl in his wake.
With the Senate on a knife-edge, split 51-49 in favour of Republicans over Democrats, the confirmation process is expected to be drawn out and ugly. Activist groups on both sides are already waging a multimillion dollar advertising war urging citizens to pile pressure through phone calls, emails and protests.
Liberals are focused on Repubican senators Susan Collins of Maine and Lisa Murkowski of Alaska, who have previously defended reproductive rights. Collins has said she would not back someone who has demonstrated hostility to Roe v Wade.
Ilyse Hogue, president of NARAL Pro-Choice America, told reporters that senators need to be examining their conscience and their moral maps and stand with us. And if they don't, they need to examine their political futures.
Some activists are calling for Democrats to adopt a scorched earth policy and block the confirmation process at all costs. But 62% of Americans want a new justice confirmed before the November midterms, according to an NBC News/SurveyMonkey poll.
Levey said: The Democrats have very little chance of stopping the nominee where they are. They have to put on a show for their base but I suspect, when its over, well be surprised that it was not a fight to the death, just a fight to clawing each others eyes out.
Meanwhile conservatives are poised to target three Democrats seeking re-election in November in states that Trump won overwhelmingly in 2016: Indiana's Joe Donnelly, West Virginia's Joe Manchin and North Dakota's Heidi Heitkamp, all of whom attended a recent White House meeting with the president.
Then, like much else in the Trump era, there is always the potential for a last minute surprise. Edward Fallone, an associate law professor at the Marquette University Law School in Milwaukee, Wisconsin, said: The wild card here is if something comes up about a potential nominee and their past life and career that escaped attention when they were confirmed for their last court position.
Citing the infamous example of Justice Clarence Thomas, who faced allegations of sexual harassment during his 1991 confirmation hearing, Fallone added: You never know. You could get an individual coming forward like a modern day Anita Hill.
Read more: https://www.theguardian.com/law/2018/jul/09/donald-trump-supreme-court-nomination