Some immigrant families are being reunited — but their troubles are far from over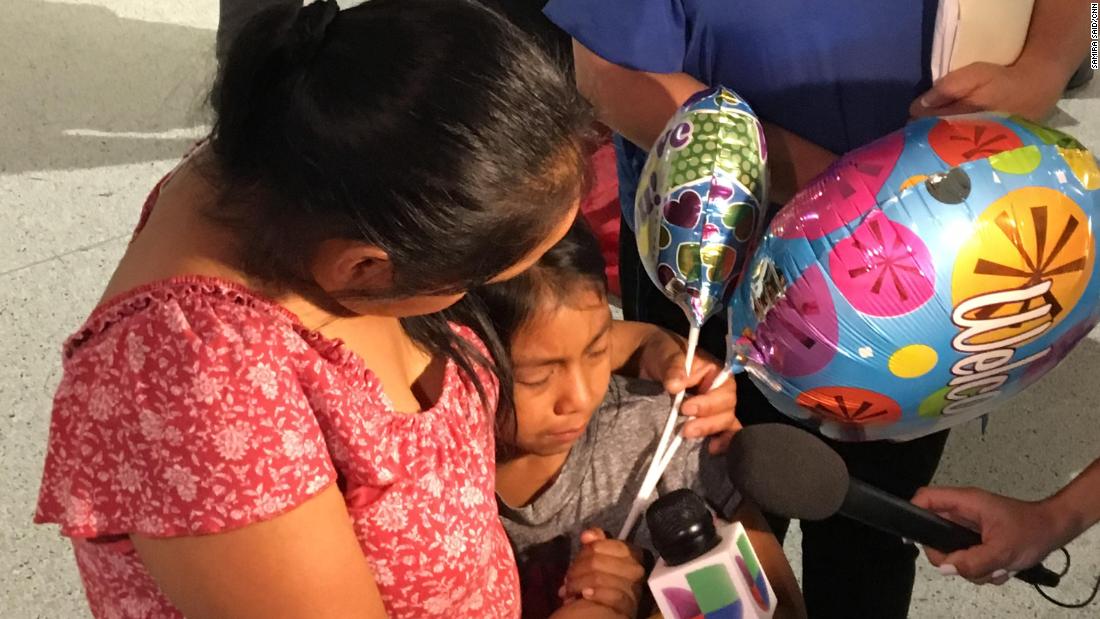 (CNN)After a federal judge ordered the Trump administration to reunite the immigrant families it has separated, there's been a trickle of stories of parents being reunited with their kids.
For the parents and children who have been brought back together, thecelebrations may be short-lived. After reunification, they face a series of other obstacles — including long, complex legal proceedings, and possibly deportation. For children, the trauma of being separated from their parents will be long-lasting. Some families are only partially reunified; a child may be returned to his mother, for instance, while his father remains in detention.
Here's a look at some of the situations that families might face even after being reunited.
A LONG, ARDUOUS FIGHT TO STAY IN THE US
Once immigrant parents are released from detention and reunited with their children, the next step for many of them is fighting to stay in the United States. Most immigrants coming from Central America are seeking asylum, and the court proceedings involved can be long, arduous and resource-intensive.
At the same time, they will also be dealing with adjusting to life in a new country, said Zenén Jaimes Pérez, the communications director for the Texas Civil Rights Project.
"The first time you saw this country, you might have been apprehended, in detention facilities, courtrooms or jails since you arrived, and all of a sudden you're out," Pérez said. "You have to find your way to your family. You have to get on a bus, you might have to get on a plane, you have to find a place to live. You might have to find a way to financially support yourself. All of those things are still factors and processes that all of these families have to go through."
To claim asylum, a person has to prove they faced persecution at home because of their race, religion, national origin, political opinion or membership in a particular social group. That persecution can either be inflicted by the government or by individuals that the government can't or won't control.
And even if an applicant meets the requirements for asylum, Sessions argued that they should also have to prove why they deserve it.
REUNITED, THEN DEPORTED
LASTING SCARS
"The core impacts of trauma and toxic stress include the disruption of their stress system, leading to lifelong behavioral problems, cognitive difficulties, chronic inflammation, impaired health, and even early death," Keating wrote. "Their attachment system will also be damaged, leading to persistent difficulties in making and sustaining successful relationships."
Many children in detention facilities show signs of separation anxiety even if their parents are around, Luis Zayas, dean of the school of social work at the University of Texas at Austin, told CNN. And because parents don't have control over their circumstances while in detention, children can become insecure about their parents' ability to protect them.
So far, parents who have been reunited with their kids say they have not received any warnings from the federal government on how to deal with the trauma that their children may now be experiencing, nor guidance on how to talk to their kids about what they endured.
Olivia Caceres, an immigrant from El Salvador, already sees the impact that separation has taken on her son. She, her partner and their two sons left El Salvador together, but had to split up when her younger child became ill. She and her older son continued on to the border, while her partner and her younger son arrived later. Caceres soon learned that her younger son was separated from his father at the border.
"I thought that, because he is so young he would not be traumatized by this experience, but he does not separate from me. He cries when he does not see me. That behavior is not normal," she said in court documents.
OTHER FAMILIES MIGHT STILL END UP BEING SEPARATED
So what would happen once those 20 days are up?
Families could be separated again.
Read more: https://www.cnn.com/2018/07/09/us/whats-next-after-family-reunification/index.html