Roger Federer swats aside Dusan Lajovic to start Wimbledon title defence
Roger Federer began his pursuit of a record ninth title in the same calm way he annexed his eighth a year ago, brushing aside the world No 57 Dusan Lajovic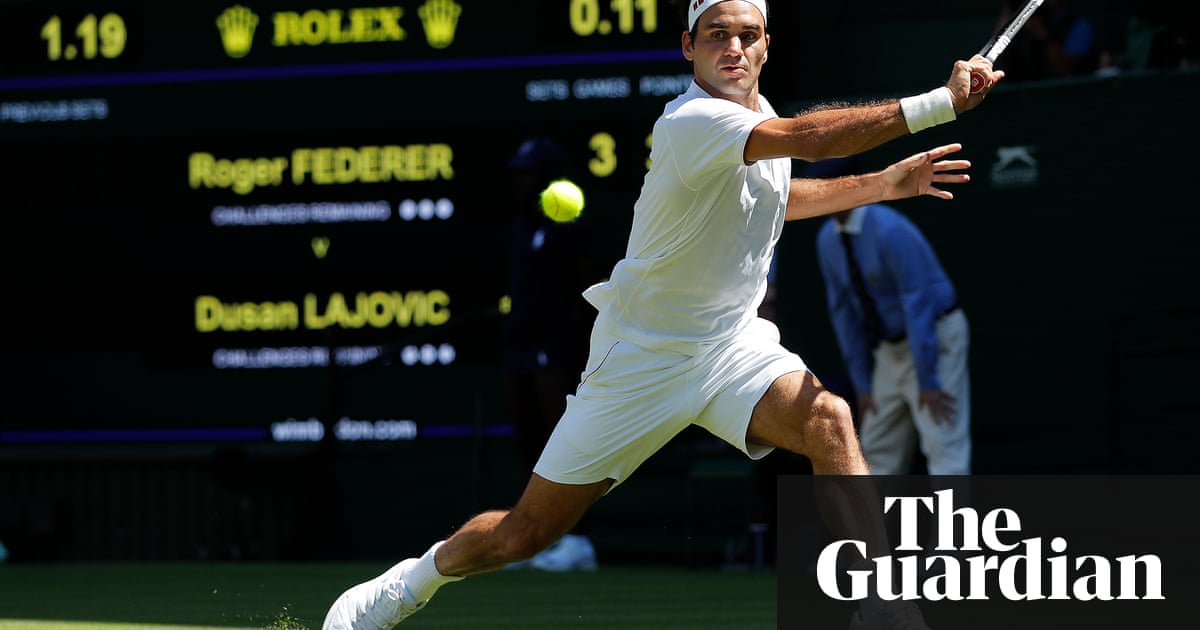 Roger Federer, favourite again in his 20th consecutive Wimbledon, began his pursuit of a record ninth title in the same calm way he annexed his eighth a year ago, brushing aside the world No 57 Dusan Lajovic in 79 minutes of almost embarrassing brilliance.
Last year, the Swiss took an hour and 41 minutes to beat a foot-blistered Marin Cilic in the most one-sided final in many years having beaten Lajovic in an hour and a half in the second round and Monday's 6-1, 6-3, 6-4 win, his ninth in the first round on Centre Court, was even more clinical.
If Wimbledon's burghers are praying for a quick final to avoid a fixture clash with the World Cup final in the two-hour window available on Sunday week, Federer might be the only player capable of delivering it.
By the time Cilic, with an hour and a half head start, had done his own three-set demolition job on the 5ft 7in Japanese left-hander Yoshihito Nishioka with 21 aces on No 2 Court, the defending champion had already gone a set and a break up in just half an hour on the main stage.
Federer pressed on, elegantly (he knows no other way), to win, and said at the scene of the crime: I felt good from the start, which was not the case against him last year. Very happy with my point-for-point mentality.
Of course he got a standing ovation when he walked out to open the tournament, and said afterwards: Its such a wonderful court. You feel like youre walking out for a final. I was really able to enjoy it.
At the end, his wife, Mirka, was taking pictures of the victory celebration, pausing only to keep her eye on their two sets of twins in the players box. I'm very happy to be playing in front of my children, Federer said. It doesn't matter who else is in the stadium. Having four little people in there is a lot of fun.
The All England Club, nonetheless, surely would have wanted a more competitive opening as the world's gaze settled on SW19 in its summer glory, but Lajovic, who has some good wins on his CV, could do little to resist the lazy power of Federer's sublime groundstrokes. He dragged the 28-year-old Serb from one side of the court to the other, at will, as if working a marionette on invisible strings.
The first set flew by in 20 minutes. The second lasted nearly half an hour. And, 30 minutes after that, Federer speared one of his gorgeous backhands into the deuce corner and his harried opponent could do little more but punt it long.
His serve was irresistible. He won 41 points of 45 on first serve, 11 of 18 on second, striking eight aces with just one double fault, and hit 35 clean winners in all. Lajovic, at times a redundant spectator, did not get a single free point from any of his 59 serves, nor did he get a single break point, suffering five against him.
It was beautiful carnage.
Read more: https://www.theguardian.com/sport/2018/jul/02/roger-federer-wimbledon-dusan-lajovic