Merkel defends migration policy after Seehofer showdown
Beleaguered chancellor gives first speech to parliament since crunch meeting with hardline interior minister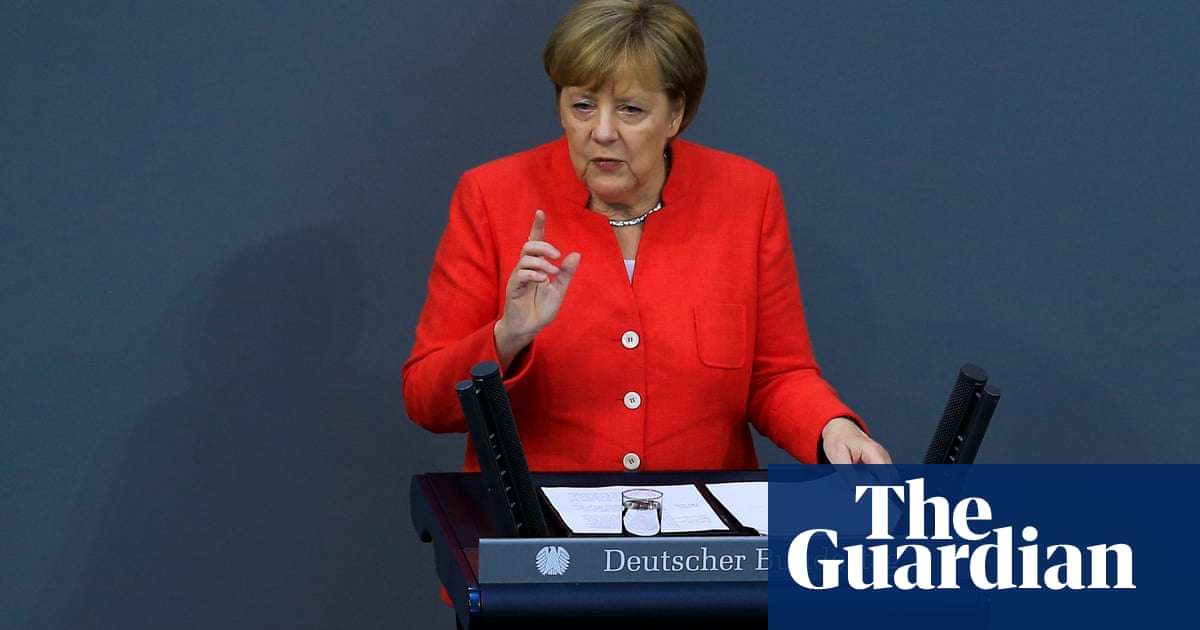 Angela Merkel has sought to defend her governments migration policy in her first speech to parliament since a showdown with the interior minister, Horst Seehofer, over the policing of Germanys borders.
The German chancellor spoke up for the compromise agreement the Christian Democratic Union (CDU) struck with its smaller partner, the Christian Social Union (CSU), to erect transit zones along the southern German border to speed up the deportation of ineligible asylum seekers, insisting migration had to be better regulated.
We must have more regulation regarding every type of migration, so that people have the impression that law and order are being enforced, Merkel told a packed Bundestag, in a speech intended to show she is still in control after intense speculation that her 13-year chancellorship was about to end.
Stressing that migration was a global problem requiring a global solution and countries could not go it alone, she said the EUs future was dependent on a solution being found.
How we deal with the migrant question will decide whether Europe continues to exist in the future, she said, referring to her fraught attempts to secure deals with other EU members to accept the return of refugees who had registered in their countries.
At the same time, she underlined the necessity of protecting Europes outer borders more effectively as well as agreeing partnerships with African countries to tackle illegal migration and lessen the incentives for economic migration.
But the chancellor, looking tired and pale after weeks of late-night negotiations in Brussels and Berlin, came under fire from almost all parties, in particular the anti-immigrant Alternative for Germany, whose parliamentary leader, Alice Weidel, demanded her immediate resignation.
Under your regime, Germany has shifted from being a motor and stability guarantor to a driver of chaos, she said. She referred to the battle within Merkel and Seehofers conservative alliance as undignified theatrics, and Germany as a madhouse, the headquarters of which is the chancellery, before urging Merkel to put an end to this tragedy please resign at last.
While Weidel spoke, Merkel had her head down, concentrating on the finishing touches to a speech on the nations budget.
Christian Lindner, the head of the pro-business Free Democrats, accused Merkel of having failed to find a satisfactory solution to the governments refugee policy since the late summer of 2015, when nearly 1 million refugees arrived in Germany.
He accused Merkel of failing to consult her junior coalition partner, the Social Democratic party (SPD), which crucially has yet to give its go-ahead to the transit zones. The party is in a quandary over whether to accept the zones, which many members have compared to prisons and even concentration camps, or risk the collapse of the coalition.
The SPD was quick to attack Seehofer, who had offered his resignation as minister and CDU leader on Sunday, blaming him for bringing the government to the brink of collapse with his so-called migration masterplan, over certain details of which he and Merkel have been at loggerheads.
Andrea Nahles, the SPD leader, said: We dont need masterplans, we need good craftsmanship.
Other SPD members stressed that the transit zones were a fudge, not least because on average, only five asylum seekers a day were currently attempting to enter Germany via the south.
Among the fiercest critics of Seehofer was Dietmar Bartsch, the parliamentary leader of the far-left Die Linke. That Seehofer was sitting in the Bundestag on his 69th birthday, he said, should be viewed as a one-off birthday treat. You will not be sitting here as interior minister on your 70th birthday, he said. Bartsch accused the CSU of a ruthless attitude towards refugees, insisting the C in CDU and CSU no longer stood for Christian but for chaos.
To resounding laughter across the chamber, he said: I believe you would have smilingly deported Jesus. Seehofer sat in contemplative silence, his chin in his hand, not once contributing to the debate.
Merkels next hurdle will be to secure the support of the SPD, which has been holding emergency meetings round the clock to discuss whether it is ready to approve the transit zones, but has yet to reach a unified position, with most misgivings coming from the left wing of the party.
Neighbouring Austrias position also remains open. Its government, which on Tuesday expressed its scepticism about the transit zones, has yet to agree to back them, not least because this would require Vienna to agree to take back refugees who had registered in Austria.
Seehofer is due to travel to Austria on Thursday in an attempt to hammer out a deal with the Austrian chancellor, Sebastian Kurz.
Read more: https://www.theguardian.com/world/2018/jul/04/merkel-defends-migration-policy-after-seehofer-showdown