'I do care' shirts troll Melania Trump at immigration protests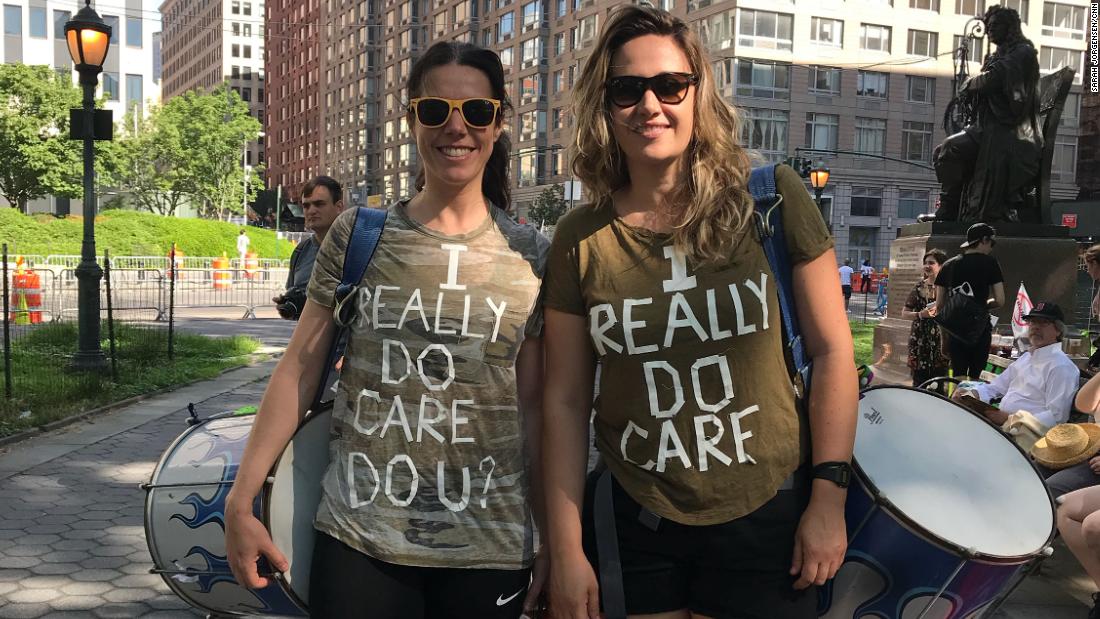 ( CNN ) The White House says Melania Trump wasn't sending an immigration message with her "I Really Don't Care" jacket. But demonstrators who riffed on it Saturday sure were.
In New York, objectors Annie Scott and Fernanda Kock wore olive green T-shirts with the message "I Really Do Care" on the front.
"We're here because we think this is important, " Scott told CNN about attending the rally to protest the White House's "
zero tolerance
" immigration policy .
The "I Care" messages remember first lady Melania Trump's recent wardrobe choice. Boarding a plane last week to see an immigrant children's shelter in Texas, she wore an olive Zara jacket with
"I Really Don't Care. Do U? "
in graffiti-style lettering on the back .
Trump didn't wear the jacket at the facility, and her spokesperson insisted the first lady wasn't transmitting a concealed message. But critics complained her robe selection was insensitive, devoted her destination and the ongoing national debate over immigrant household breakups .
Thus, the "I Really Do Care" symbols on display Saturday .
In Washington, four members of the Ickowitz family donned green shirts with the spinoff message.
Mike Ickowitz, 39, of Knoxville, Tennessee, said he believed the first lady's messaging was deliberate, so he and members of their families were "sending one right back" during a rally near Lafayette Square, blocks from the White House.
"We have to speak for the marginalized" people, his wife, Tanya, said .
Also in Washington, Margaret Stokes, a 54 -year-old teacher from Virginia, held a sign depicting a baby's onesie, published with the words, "Where Is My Mother? " Below it was the message, "Do You Care? "
"Separating households, especially young children, without a plan to reunite them is abhorrent, " Stokes said. "This is not America."
Read more: https :// www.cnn.com/ 2018/06/ 30/ us/ immigration-protests-melania-trump-trnd/ index.html