Archaeologists stumble on Neolithic ritual site in Suffolk
Diggers laying groundwork for a new windfarm detect previously unknown site of international significance
As diggers began to strip the daisies and buttercups and carve down through the parched clay of a field near Woodbridge in Suffolk that sloped down to a riverbank, with archaeologists watching over the somewhat but apparently featureless website, something extraordinary initiated to emerge. Clear spring water came bubbling from the ground, and with it came massive lumbers saved so perfectly that tool celebrates were still visible and bet posts were sharply pointed.
The archaeologists first thought the timbers must be medieval or even Victorian, and were puzzled to find them so deeply interred. But as 30 metres of lumber trail were exposed, alongside other unexpected objects too, such as the massive cornets and skull of an aurochs, an extinct spawn of giant kine, they realised the latter are dealing here something far more ancient. The timbers were 4,300 years old, according to the first carbon-1 4 exams, and underlying ones may be much older.
The Neolithic trackway, which had evidence of being repeatedly restored and renewed over decades and likely generations, seems to have led up to a level timber platform, with spring water deliberately channelled to surround it. From the platform, objects were dropped into the running sea, including metal, pottery and the horned aurochs skull. The skull had been carefully shaped either to fix to a pole or apply as part of a headdress and as the archaeologists who had to raise and carry it down the hill could witness, lugging it to the website would have taken considerable effort.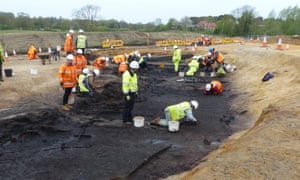 Read more: https :// www.theguardian.com/ science/ 2018/ jun/ 28/ archaeologists-stumble-on-neolithic-ritual-site-in-suffolk